Tsagkarada village is fortunate to be within a short distance from some of the most beautiful beaches in Greece. From the trendier to the more remote, they all have secrets waiting to be discovered, including small caves with their own strip of sand, secluded bays, streams and waterfalls. These are a few of our favourite selections:

Mylopotamos:
The most well known beach in Tsagkarada, and only a two minute drive from Elysian Boutique House, this beautiful beach is cut in half by a large rock. Part of the beach is under a natural cave. There are steps to reach it (about 10 minutes), beach bar and sun loungers rental.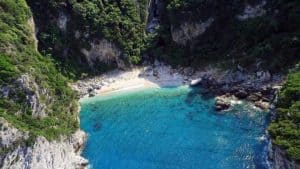 Fakistra:
On a small bay surrounded by imposing and steep rocks is Fakistra, a secluded beach of wild and primitive beauty. Fakistra is located less than 10 minutes away from the Villa. Park first and follow the path down to the shore on foot.

Damouchari:
A large stoned beach, on the road towards Ag. Ioannis, turn right and follow the signs. You can reach the shore on foot through a path. Small fish tavernas overlooking the water will welcome you, just as a scene from the famous movie 'Mamma Mia' was filmed here. No sun loungers available.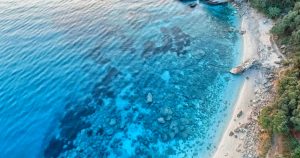 Papa Nero:
A great expanse of sand and umbrellas, this beach is located about 20 minutes drive from Elysian Boutque House, towards the right of the Ag. Ioannis camping site. Ideal for children, there are many restaurants and coffee shops along the boardwalk.

Plaka:
A picturesque beach about 30 minutes drive from Elysian Boutique House, park to the left of the Ag. Ioannis settlement and walk along the short path to the beach. There is also a beach bar at the far end of the beach. Its location is convenient as from the neighbouring beach of Ag. Ioannis, one can easily walk to Plaka.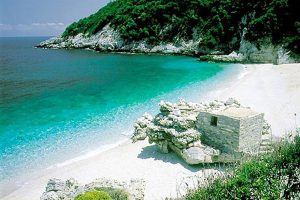 Limnionas:
The isolated beach of Liminionas is along the most beautiful and picturesque locations of Pelion. Located between the beaches of Mylopotamos and Lambinou within a small bay created by nature, access is not very easy as there is a narrow dirt road leading to the beach.

Lambinou:
A small charming bay in the east side of Pelion with clean deep turquoise waters and a sandy coast. Surrounded by imposing rocks drowned in lush vegetation, they also form the mysterious caves where the Mediterranean monk seal (Monachus monachus) used to live.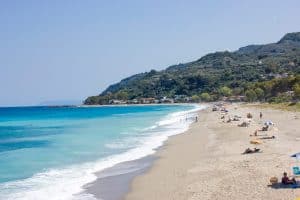 Horefto: 
The beach of Horefto is located in the same named village, right next to Zagora. About a 45 minute drive, it boasts clear blue waters with a stretch of sand of 2.5 ilm in length. Worth the drive, but plan to spend the day there.